About Debra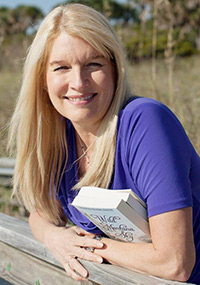 Debra Holland is the New York Times and USA Today Bestselling author of the award-winning Montana Sky Series (sweet, historical Western romance) and The Gods' Dream Trilogy (fantasy romance.)
Debra is a three-time Romance Writers of America Golden Heart finalist and one-time winner. In 2013, Amazon selected Starry Montana Sky as one of the Top 50 Greatest Love Stories.
When she's not writing, Dr. Debra works as a psychotherapist and corporate crisis/grief counselor. She's the author of The Essential Guide to Grief and Grieving, a book about helping people cope with all kinds of loss, and Cultivating an Attitude about Gratitude, a Ten Minute Ebook. She's also a contributing author to The Naked Truth About Self-Publishing.
Grace: Bride of Montana's Cover Shoot
The inspiration for Grace: Bride of Montana's cover came when I participated in a costume photo shoot provided by VJ Dunraven of Period Images at the InD'Scribe (readers) Convention in Palm Springs in 2015. A historical dress costume party was held on one of the night.
Although I originally wasn't going to attend the party, planning to stay in my hotel room and write, my friends persuaded me to drop by to see the costumes, and I was immediately captivated. I asked for a dress from the 1880s or 1890s, the time period of my books.
The skirt of the dress I chose originally had loose material pinned up on the side to look like colonial-style panniers, which also matched the square neckline of the dress. We unpinned the fabric and then gathered the material at the back to resemble a bustle. I tried on the costume and immediately felt like a little girl playing dress up and realized I was having FUN. I also realized how long it had been since I'd had a light-hearted, little kid feeling of playfulness.
Actor/model Michael Foster was one of the models at the convention that weekend and since I was having such a good time, I decided to commission a photo shoot, including having my hair and make-up done. I felt pretty and knew I glowed from the magic of the experience. I had so much fun with Mike. We laughed a lot between shots.
When we finished, VJ called us over to look at the photos on her camera, saying they looked like professional shots. Seeing them gave me the idea to use one for my American Mail-Order Bride cover. The American Mail-Order Bride series—with 45 authors writing a story set in each of the states of the US--has a branded look so all 50 books would look similar to each other. (My other books don't have models on the covers.)
Talented VJ provided me with seventeen images, and I put my eight favorites on Facebook and polled my readers for their opinion. I used the most popular photo, and that's how I ended up being on my own cover for Grace: Bride of Montana.
Here I am with actor/model Michael Foster who did the cover of Grace: Bride of Montana with me. You can see how big he really is when I'm not in high heels and he's not bent over.
Frequently Asked Questions
What is Debra working on now?
Debra is finishing up A Late-Blooming Rose, a Montana Sky Series novella.
Are you going to write more Mail-Order Brides of the West stories?
After Mail-Order Brides of the West: Bertha, Caroline Fyffe and I have no plans to write any more of those stories. But beloved characters from those books will appear in other books. You'll see more of Debra's Mail-Order Brides of the West characters in her other Montana Sky Series books. You'll find more of Caroline Fyffe's Mail-Order Brides of the West characters in her McCutcheon Family Series.
What is the order of the Montana Sky Series? Can I read them out of order?
Each of the Montana Sky Series books (which includes The Mail-Order Brides of the West stories) are stand-alones and can be read out of order. However, familiar characters from other books become reoccurring characters. Sometimes, events will overlap in a few books, or an event like the wedding of a hero and heroine or the birth of a child might actually take place in a different book. See the Books tab for the chronological order of the books, beginning with the free prequel, Beneath Montana's Sky.
When are you going to publish more books for Twinborne Trilogy?
I know I've neglected Twinborne Trilogy. Too many books to write, so little time. Fingers crossed that I can get back to that series. But they are big books and will take a long time to write.
You work as a psychotherapist and corporate crisis/grief counselor. How does your knowledge of people and emotions impact your stories?
One of the themes of my books is dealing with loss, especially bereavement. Death is a part of life, but in our modern times, we are blessed –for the most part—to live long and healthy lives. But, for most of human history, that wasn't the case. Most people experienced the loss of one or more children. Women died in childbirth. An accident or illness (that today is easily healed) would cause death.
For help in coping with losses of all kind, especially bereavement, see my book The Essential Guide to Grief and Grieving.
How did you become so successful as an author so quickly?
Although it seems that way, I'm not an overnight success. I've been writing fiction since 1997 or so. In 2001, Wild Montana Sky won the Romance Writers of America Golden Heart award for unpublished novels. In 2011, self-publishing helped my books find their audience.
For more of my author journey and to learn more about successful indie, see The Naked Truth About Self-Publishing.
Can you read my book and give me an endorsement?
No. I read for pleasure. Reading for an endorsement becomes work. I don't want to have to read on demand. And what happens if I don't like the book? That's a sticky situation.
However, I often leave positive reviews on Amazon when I like a book.
While we're at it, please don't send me unsolicited Facebook event invites or emails to buy your book. That's unprofessional behavior.
Can you edit my book for me?
No. Editing is a time-consuming job. You need to find a professional editor and pay for the service.
I have a story idea, and I'd like you to write the book. We can split the profits 50/50.
I have more of my own story ideas than I can write in a lifetime. I'm not interested in anyone else's. The job of writing is the HARD WORK. The ideas are easy. I suggest you study the craft and write your own book.